Topic 10 - Shielding
| | | |
| --- | --- | --- |
| External Radiation Protection | | |
Basic Principles
Minimize exposure time
Maximize distance from the source
Shield the radiation source
Distance Effects on Dose Rate
Radiation Field Geometry Considerations

Point Source
Line Source
Plane Source
Calculating Fluence and Flux From a Point Source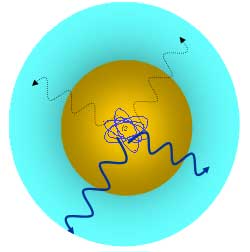 F

= Fluence

g

/cm2

f

  = Flux

g

/cm2s
D = total number of photons emitted
S0 = source strength (photons/s)
r  = distance from source
Point Source Calculations - Photons

Dose rate dictated by inverse square law
I1 = radiation intensity at distance R1 from the source
I2 = radiation intensity at distance R2 from the source
Example
60Co

2 photons (1.17, 1.31 MeV)

Given 3700 MBq source

What is the exposure rate a 1 m?
What is the exposure rate at 7.2 m?
Point Source Calculations - Photons
Dose equivalent rate

G

= specific gamma ray constant
A = source activity
d = distance
wr = radiation weighting factor
V = velocity of approach to source
t = total time of exposure

Example
10 Ci 60Co source failed to retract into its shield
Operator walks to source at 1 m/s
Stops 1 m away, looks for 15 s and leaves at a rate of 2 m/s
What is the dose commitment?
Line Source (Cember)
Pipe carrying contaminated waste
Cl is linear concentration of activity (e.g., Ci/cm or MBq/m)
Source strength is

G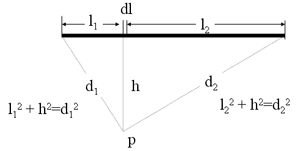 Line Source (Cember)
Dose rate at point p from small amount dl is

Line Source (Cember)
Dose rate at point p from total length of pipe is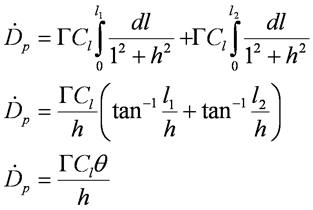 Example
24Na in a cooling water line passes through a pipe in an access room 6 m wide
Door to the room is in the center of the 6m wide wall, 3 m from the pipe
Activity concentration is 100 MBq/m
What is the dose equivalent rate in the doorway at point D1 & D2
Example Layout
Line Source Exposure Rate - Photons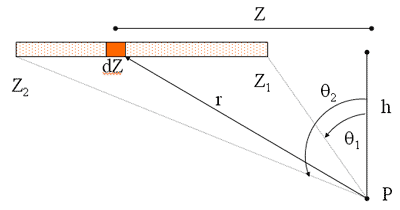 S = source strength in photons per s per unit line length (cm)
h = perpendicular distance from point of interest P to the horizontal plane of the source>

f

= flux at point of interest in photons per cm2 per s
r = distance from source to point of interest, P

q

= angle in radians
Z2 - Z 1 = line length of source in cm
Ratio of Dose Rates as a Function of Distance Midpoint from a Line Source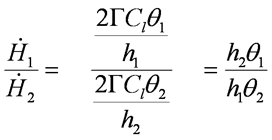 Calculating Flux From Complex Geometries
Point Kernel method

Source broken into many small kernels
Contribution from each kernel evaluated for a common point
Contributions are summed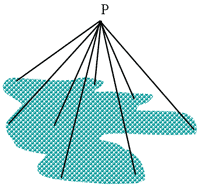 Plane Source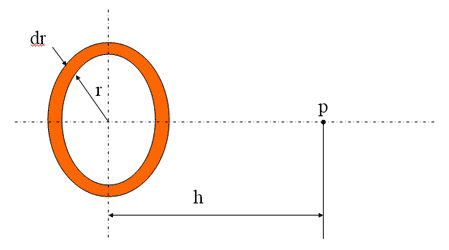 Plane Source Activity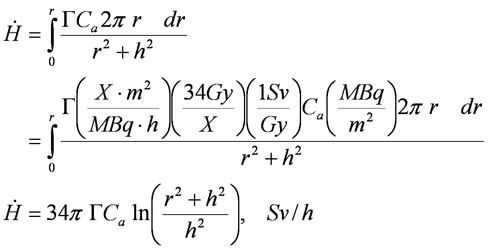 Plane Source Activity, Std Units

Ratio of Dose Rates as a Function of Distance from a Plane Source
Example

50 MBq of 24NaCl solution spilled over a circular area of 50cm
Find the dose equivalent rate at
30 cm
1 m

Volume Source

Uniformly distributed activity
Estimate based on "effective surface activity"

Allow for self-absorption in slab

Slab

Thickness t
Contains C v MBq m-3 uniformly distributed activity
Linear absorption coefficient of slab is µ

Observed intensity at surface due to activity in layer dx at depth x is: