Topic 4 - Sources of Radation
| | | |
| --- | --- | --- |
| Radioactivity & Natural Radiation Sources | | |
Radioactivity
Spontaneous decay (disintegration) of the NUCLEUS of an atom
Involves energy changes in the NUCLEUS
Results in:
Band of Stability
The Band of Stability
There is no known formula to predict if an isotope will be stable.

Example 56Fe has highest binding energy per nucleon
53Fehas a half-life of tĹ = 8.5 minutes
60FetĹ = 300,000 years
Nuclear Stability Curve
Rule of thumb for predicting stability

Plot all known isotopes (tĹ > 10-8 s) as no vs p+
two lines can be drawn to enclose all of the stable nuclei
Between these 2 lines lies the Band of Stability

no/p+ ratio increases as atomic number increases.
As more protons packed into nucleus, larger numbers of neutrons required to compensate strong force - to "dilute" the proton-proton electrostatic repulsions.
Isotopes above and to the left tend to Ŗ -emitters.
Isotopes below and to the right tend to be positron emitters.
Isotopes above atomic #83 tend to be a emitters.
Stability Quirks
Odd Even Rule

If nís and pís are both even, isotope is likely stable†
Of 264 known stable isotopes

only 5 have both odd numbers
157 have both even numbers
102 have both an odd and an even number.

The odd-even rule is related to the spins on the nucleons:

Both p+ and no have spins. When two like particles have paired spins, combined energy is less than when their spins are not paired.
When even numbers of p+ and no all the spins can be paired and the system has less energy (i.e. more stable) then when an odd proton or odd neutron is present.

Magic Numbers

Isotopes with specific numbers of protons and neutrons are more stable then the rest.

Numbers are 2, 8, 20, 28 , 50, 82, and 126.
When both the numbers of the p+ and the number of no are the same magic number the isotope can be quite stable.
eg. 42He, 168O, 4020Ca
All these isotopes are extremely stable.
†20882Pb has 82 p+ and 126 no

Existence of magic numbers supports the hypothesis that there are nuclear energy levels similar to electron energy levels.
The facts of life
Where do radioactive (and other) elements come from?

Universe is primarily hydrogen and helium
Big Bang produced mainly H and He, with trace amounts of some lighter elements
No appreciable production of C, N, O, Fe, Mg, Si, ... , and other elements heavier than iron.
Where did these elements come from?
Most of the elements lighter than iron and nickel can be built up from successive rounds of thermonuclear fusion burning in the cores of stars.
Cosmic Abundance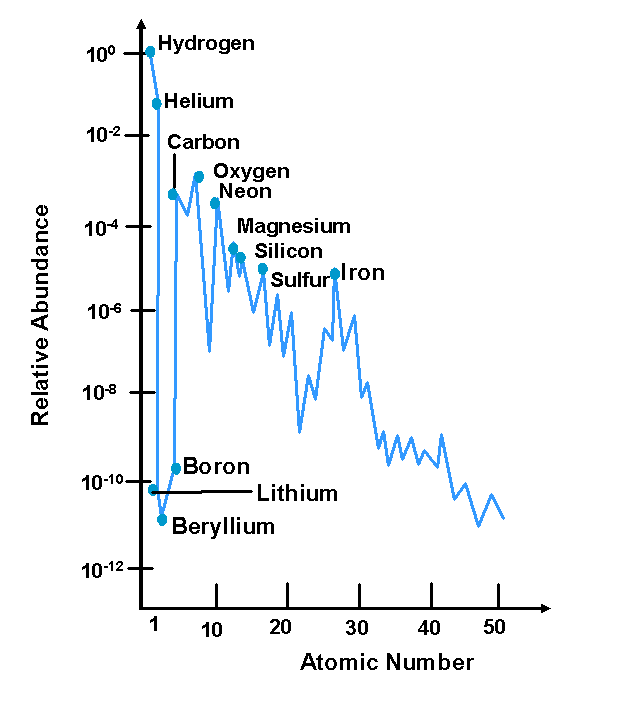 Elemental Distribution
Extreme abundance of hydrogen
General decrease with Z
Low abundance of some elements (Li, Be, B, Sc)
High abundance of Fe, Ni, Pb
Greater abundance of even Z vs odd Z
The process of creating the heavier elements is called nucleosynthesis . Itís from neutron capture during a supernova
Crustal Abundance of Elements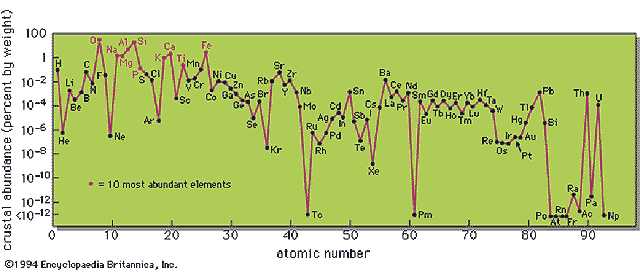 Radiations/Radionuclides
Solar/Cosmic Radiations
Terrestrial radionuclides

Primordial
Chain decay
Other
Natural Sources of Ionizing Radiation
Cosmogenic radionuclides, 3h, 14C, 7be,
Cosmic radiation, P+, e-, …
Terrestrial radiation, 232Th, 238U, 226Ra, 40K, 87Rb
Cosmic Radiation
High energy particles

87 % protons
1% Electrons
11% alpha
Muons
1% Heavy particles (4 < Z < 26)

Interact with earthís atmosphere
Cosmic rays
Altitude dependent
Latitude dependent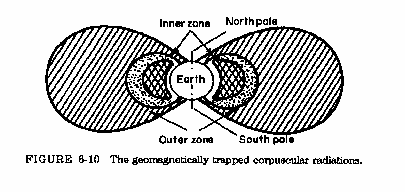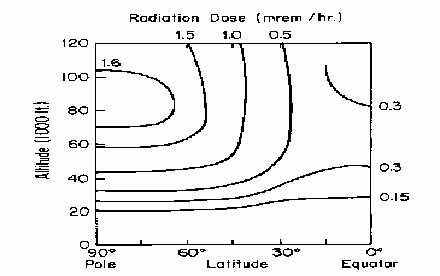 Solar Radiation
High energy protons and electrons streaming from solar flares hit the earthís outer atmosphere
Cosmogenic Nuclides
Induced Radionuclides

Produced by cosmic ray interactions with atmospheric nuclei
Includes 3H, 14C, 7Be.
Also† 10Be, 22 Na, 32P, 35S, 39Cl
| Nuclide | Half-Life | Source |
| --- | --- | --- |
| 14C | 5730y | 14N(n,p)14C |
| 3H | 12.3y | Cosmic ray interactions with N and O spallation from cosmic-rays, 6Li(n,alpha)3H |
| 7Be | 53.28 d | Cosmic ray interactions with H and O |
Primordial Radionuclides
Primordial radionuclides are left over from when the world and the universe was created.
They are typically long lived, with half-lives often on the order of hundreds of millions of years.
Radiation From the Earth
Naturally occurring radionuclides present in rocks, soils, plants, water, air, and building material
Major nuclides include

Uranium (U)
Thorium (Th)
Radium (Ra)
Radon
Primordial nuclides - examples
| Nuclide | Half-Life | Typical Activity |
| --- | --- | --- |
| 235U | 1.04 * 108 yr | 0.72% of all natural uranium |
| 238U | 4.47 * 109 yr | 99.2745% of all natural uranium; 0.5 to 4.7 ppm total uranium in the common rock types |
| 232Th | 1.41 * 1010 yr | 1.6 to 20 ppm in the common rock types with a crustal average of 10.7 ppm |
| 40K | 1.28 * 109 yr | soil - 1-30 pCi/g (0.037-1.1 Bq/g) |
Thorium Series (4n)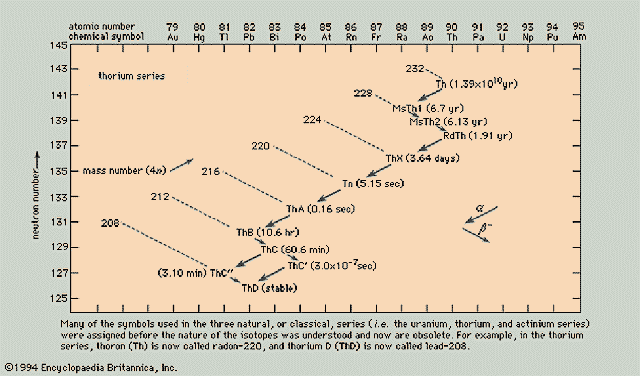 Neptunium Series (4n+1)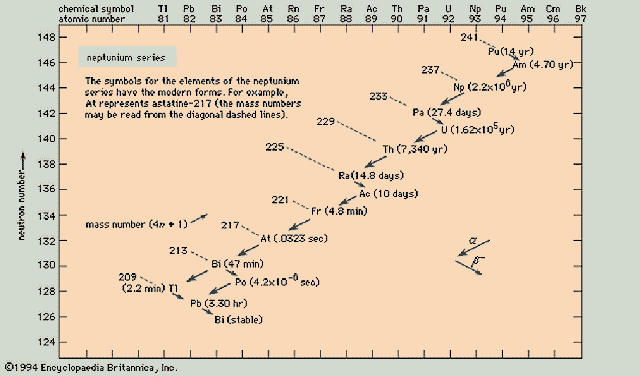 Uranium Series (4n+2)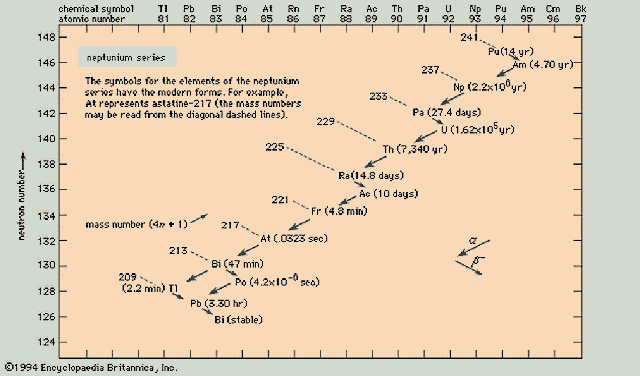 Actinium Series ( 4n+3)