Week 10
| | | |
| --- | --- | --- |
| Swine | | |
Instructions for listening to audio clips
Download the QuickTime Player to listen to the audio files.

Read the QuickTime Instructions for installation help.

Download the RealPlayer to listen to the audio files

Instructions are on the RealPlayer download page
Introduction to Feeding Swine
Time: 7.01
Follow along with the audio...
Today's U.S. Pork Industry
There are 85,760 pork operations today compared with 3 million in 1950
80% of the hogs are grown on farms which produce 5000 or more hogs per year
Feed represents 65-75% of the total cost of production
Smithfield Foods

Worlds largest vertically integrated hog operation
700,000 sows
12 million market hogs annually
controls about 15% of hogs in the US
Why Does This Matter?
These influences have driven the industry to essentially all-confinement, high-intensity rearing and this dramatically influences how hogs are fed and managed.

What does Smithfield do with the manure from 12 million hogs?
What does Smithfield do with the unwanted fat on these hogs?
How does ration formulation relate to these management issues?
Digestive Tract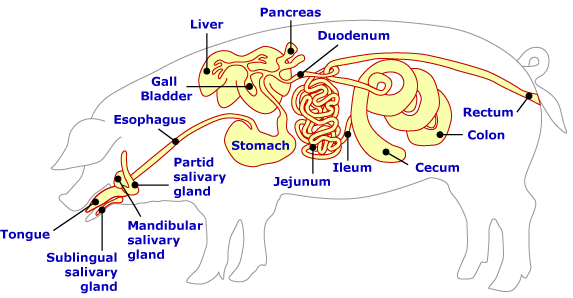 Nutrients Needed by the Pig
Nutrients Needed by the Pig

Essential Amino Acids

Essential Fatty Acids

Minerals

Vitamins

Arginine
Linoleic
Calcium
Iron
Vitamin A
Thiamine
Histidine
Linolenic
Phosphorus
Zinc
Vitamin D
Riboflavin
Isoleucine
Magnesium
Copper
Vitamin E
Niacin
Lysine
Sodium
Selenium
Vitamin K
Pyridoxine (B6
Methionine
Potassium
Iodine
Biotin
Phenylalanine
Chloride
Manganese
Vitamin B12
Threonine
Sulfur
Molybdenum
Folic Acid
Tryptophan
Pantothenic Acid
Valine
Choline
Vitamin Ca
aAlthough vitamin C can be synthesized by the pig, research evidence suggests that the early-weaned pig may require a supplemental source in the diet for a short period postweaning.
Production Phase
Starter Pigs (10-50 lbs)
Grower Pigs (50-140 lbs)
Finisher Pigs 140-250 lbs)
Sows & Boars
Tissue Accretion and Nutrient Requirements at Various Growth Stages